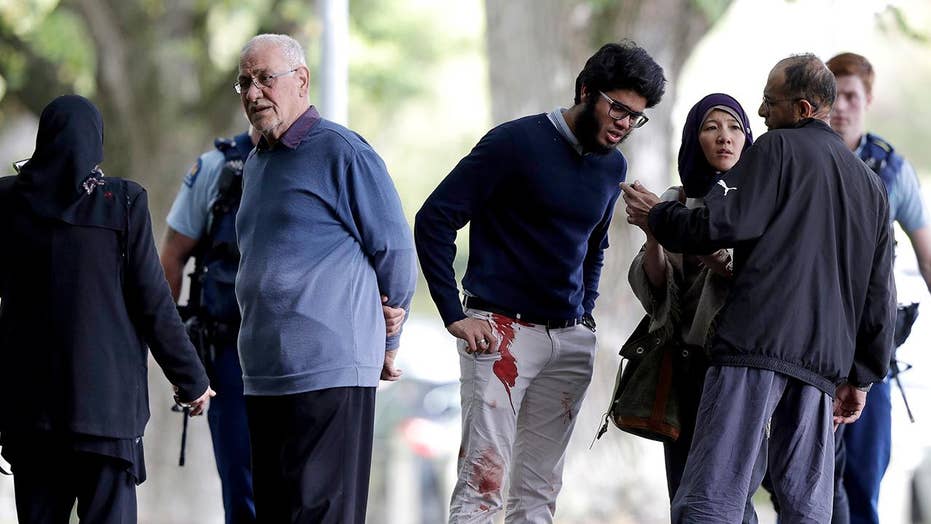 Video
New Zealand contributor on mosque attacks: Everyone's in shock
Leaders around a universe have voiced offend and grief during a murdering of 49 people in New Zealand mosques, while some also voiced annoy during what they described as a demonization of Muslims that fueled such attacks.
Western leaders including President Trump, U.K. Prime Minister Theresa May and German Chancellor Angela Merkel all voiced oneness with a New Zealand people on Friday, deploring what a White House called a "vicious act of hate".
The response from some Muslim countries went further, with leaders blaming politicians and a media for stoking hatred. "I censure these augmenting apprehension attacks on a stream Islamophobia post-9/11 (where) 1.3 billion Muslims have collectively been blamed for any act of terror," Pakistani Prime Minister Imran Khan wrote on amicable media.
Turkish Foreign Minister Mevlut Cavusoglu pronounced a conflict was a outcome of Muslims being demonized.
"Not usually a perpetrators, though also politicians media that fuel a already escalated Islamophobia and loathing in a West are equally obliged for this iniquitous attack," he tweeted.
Hundreds of indignant protesters in a Bangladeshi capital, Dhaka, chanted "Allahu akbar!" (God is Greatest) after Friday prayers.
New Zealand military pronounced 49 people died and some-more than 40 were wounded. Three people were in custody, including one male who has been charged with murder, military said.
Prime Minister Jacinda Ardern pronounced some of a victims might have been new immigrants or refugees.
Turkey, Jordan and Indonesia have all claimed that several of their nationals were possibly killed or harmed in a attacks.
The 15-member U.N. Security Council cursed a shootings as "heinous and cowardly," adding acts of terrorism are rapist and unjustifiable. The legislature stood to observe a moment's overpower for a victims on Friday.
Britain's Queen Elizabeth, who is New Zealand's conduct of state, pronounced she was "deeply saddened by a abominable events" while a Prince of Wales, a Duke and Duchess of Cambridge and a Duke and Duchess of Sussex all offering statements of magnetism and support.
U.K. Prime Minister May said: "I have been in hit this morning with Prime Minister Jacinda Ardern to demonstrate a U.K.'s deepest condolences during a offensive militant conflict that took place during dual mosques in Christchurch …. The U.K. stands prepared to support New Zealand however we can.
German Chancellor Merkel mourned "with a New Zealanders for their associate adults who were pounded and murdered out of nonconformist loathing while peacefully praying in their mosques".
Pope Francis deplored a "senseless acts of violence" and pronounced he "assures all New Zealanders, and in sold a Muslim community, of his intense oneness in a arise of these attacks".
Trump described a conflict as a "horrible massacre" and pronounced a U.S. stood by New Zealand.
The Palestinian arch assent negotiator, Saeb Erekat, called a conflict a "consequence of nonconformist ideologies that continue perplexing to foster eremite wars".
Indonesian President Joko Widodo and a country's dual largest Islamic organizations also cursed a shootings.
Norwegian Prime Minister Erna Solberg pronounced a conflict brought behind memories of 2011, when anti-Muslim nonconformist Anders Breivik killed 77 people during a girl entertainment on a Norwegian island: "It shows that extremism is nurtured and that it lives in many places."