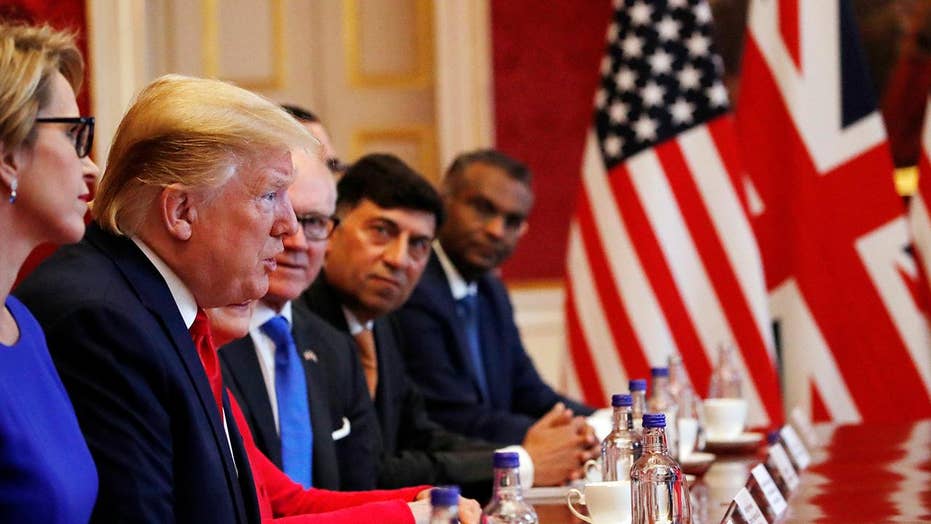 Video
With domestic tensions high, because is a US-Britain fondness some-more critical now than ever?
Reaction and research from general family consultant Rebecca Grant on 'Fox amp; Friends First.'
A lady popped a large balloon depicting President Trump as a baby in London on Tuesday, berating protesters for disrespecting a "best president ever."
"That's a disgrace," she told bystanders in a video posted by The Sun newspaper. "The boss of a United States is a best boss ever." It's misleading what she used to discourage a balloon though she stirred people to scream in response.
"I consider Donald Trump's balloon is not really well," she pronounced as she walked divided from a scene. "He's going down fast for a reason." During a video, an officer seemed to confront her, call her to delcare "the military are entrance after me."
SLIDESHOW: PRESIDENT TRUMP, QUEEN ELIZABETH ATTEND STATE BANQUET AT BUCKINGHAM PALACE
She also seemed to explain that her bloody hand, apparently a outcome of her try to detonate a baby balloon, came from a biking accident. The video finished with a lady yelling and accusing a officers of injuring her.
The balloon became a pitch of London protesters' contempt for a boss as he visited British leaders on Tuesday. The organisation that carried a balloon reportedly attributed a woman's actions to her "far right" inclinations.
"A lady … punctured a mini Trump baby reproduction with a pointy object," a organisation orator said, according to The Independent. "It's not startling that a distant right would wish to accommodate leisure of countenance with violence."
CLICK HERE TO GET THE FOX NEWS APP
The occurrence was only a latest denote that tensions were rising to a potentially dangerous turn in a British capital. In an try to say their safety, military reportedly barricaded 20 Trump supporters in a pub amid protests.
One Trump believer was shouted down as "Nazi scum" and had a milkshake thrown on him.