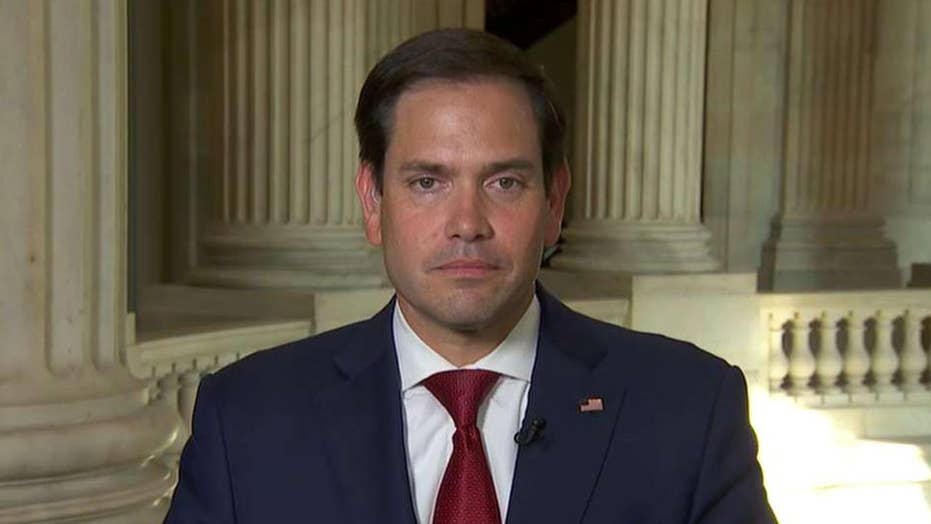 Video
Rubio: Iran is a terroristic regime that needs to be reined in
Tensions wit Iran expand worldwide; Foreign Relations Committee member Sen. Marco Rubio weighs in.
Sen. Marco Rubio, R-Fla., told Fox News Tuesday that the Iran regime needs to be "reined in."
"I consider you'll see them continue to exam these missiles with longer and longer operation and accuracy," Rubio pronounced on "The Story with Martha MacCallum." "They unite terrorism all over a region, essentially as substitute army that by a approach killed and maimed hundreds of Americans in Iraq. They were a authors and a builders of those I.E.D's that harm a infantry there in a past. And you've seen a new attacks as good and things they've finished in a region.
PUTIN SAYS US MILITARY ACTION AGAINST IRAN WOULD BE A 'CATASTROPHE FOR THE REGION'
"This is standard for a march with a terroristic regime that needs to be reined in."
Iran announced final week that it had exceeded a volume of low-enriched uranium authorised underneath a 2015 chief deal. On Monday, it was suggested Iran had begun enriching uranium during 4.5 percent purity, good past a 3.67 percent virginity authorised underneath a agreement.
Experts advise that aloft improvement virginity and a flourishing save will slight a one-year window Iran would need to have a required element for an atomic weapon, something that Tehran denies it wants.
FRANCE SENDS TOP DIPLOMAT TO IRAN AS EUROPE URGES URANIUM ENRICHMENT CUTBACK
Critics continue to blast President Trump for pulling out of a Iran understanding final year, including former Secretary of State Hillary Clinton, a president's 2016 choosing opponent.
On Tuesday, Rubio called a Iran understanding "ridiculous" and shielded Trump's preference to repel from a agreement.
"The usually thing it pronounced is that we couldn't heighten uranium and reprocess plutonium though we can continue to do a missiles, we can continue to do a cyber attacks. You can continue to unite a terrorism. That's ridiculous," Rubio said, after adding, "The boss was right to get us out of a deal."
CLICK HERE TO GET THE FOX NEWS APP
The Florida senator also betrothed a "strong and definitive" response if Iran attacks American interests.
"If Iran attacks a United States, they're gonna get a response that will be clever and definitive," Rubio said. "That said, a sanctions continue in place… We are not going to put behind [sanctions] relief so that they can have millions and millions of some-more dollars each month that they can use to build a rockets, [and] to unite a terrorism."