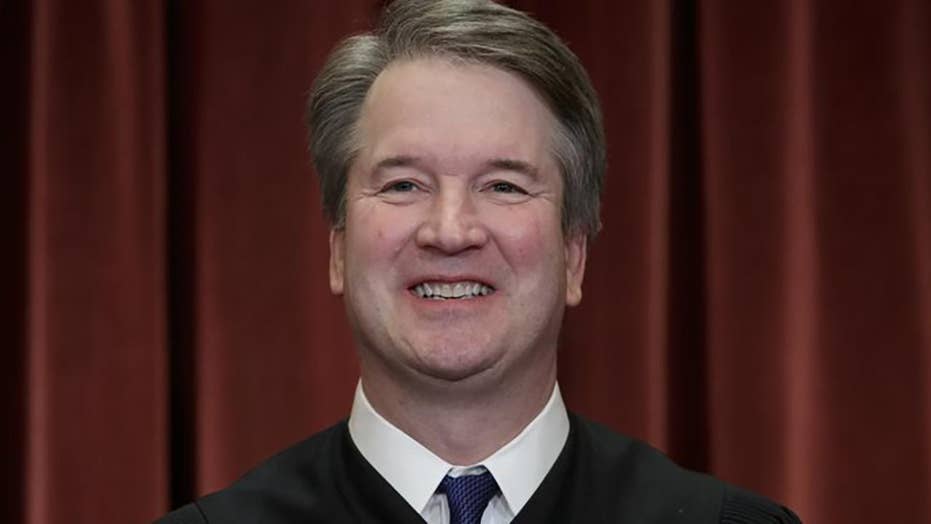 Video
Behind a Kavanaugh battle
New book rips coverage of nomination.
Sen. Susan Collins, R-Maine, refused to take partial in a Senate Judiciary Committee Republican's offer for the White House to desert Supreme Court Justice Brett Kavanaugh's assignment after his accuser, Christine Blasey Ford, delivered emotional testimony during his acknowledgment conference in Sep 2018, a new book claims.
According to "Justice on Trial: The Kavanaugh Confirmation and a Future of a Supreme Court," the unnamed Republican senator wanted Collins to join him in presenting that understanding to a White House in sell for a oath to approve President Trump's deputy nominee.
Collins, who had spent weeks building a rapport with Kavanaugh, insisted on conference what would become, according to a book, an effectively impressive response from Kavanaugh.
"I consider that speaks to who she is," co-author Mollie Hemingway told Fox News during an interview.
Hemingway, an editor during The Federalist and Fox News contributor, worked with co-author and Judicial Crisis Network's arch counsel, Carrie Severino, to talk some-more than 100 sources on a sum surrounding Kavanaugh's confirmation.
'JUSTICE ON TRIAL' EXCERPT: MOLLIE HEMINGWAY, CARRIE SEVERINO REVEAL HOW KAVANAUGH CONFIRMATION WAS SAVED
Their book delves into behind-the-scenes accounts of how President Trump's administration and a U.S. Senate dealt with narrow-minded malice that ensued after former Chief Justice Anthony Kennedy announced his retirement in 2018.
That enclosed sum about Collins' preference creation as a pivotal pitch vote. "She really most does trust in a order of law, and she really most does trust in a hypothesis of ignorance until shame is proven," Hemingway pronounced while describing Collins' preference to wait for Kavanaugh's response.
"Even her response there was telling," Severino added. "It's not, 'No, we consider Brett's a good guy.' It was … 'you need to hear both sides of a story,'" Severino said.
Collins famously minute her logic for commendatory Kavanaugh's acknowledgment during a highly-televised debate — wailing a routine he endured and emphasizing her honour for due process. "Certain elemental authorised principles—about due process, a hypothesis of innocence, and fairness—do bear on my thinking, and we can't desert them," she pronounced during a time.
CLICK HERE TO GET THE FOX NEWS APP
Collins — who mostly faced formidable pitch votes with her colleague, Sen. Lisa Murkowski, R-Alaska — had to go a Kavanaugh opinion alone. In their book, Hemingway and Severino report a impulse when Murkowski suggested to Collins she wouldn't support the judge's confirmation.
Collins' "face fell" when she schooled Murkowski wouldn't be voting with her. The Maine senator primarily suspicion she listened Murkowski contend she could opinion "yes." That stirred a "big smile" from Collins before Murkowski overwhelmed her colleague's palm and clarified, "You don't understand, I'm not going to opinion yes."