Video
Fox News Flash tip headlines for Jun 17
Fox News Flash tip headlines for Jun 17 are here. Check out what's clicking on Foxnews.com
The Department of Education will inspect a intensity disposition of a taxpayer-funded college discussion that a University of North Carolina-Chapel Hill hosted in partnership with Duke University progressing this year, after allegations of anti-Semitism flush during a event, according to a minute achieved Monday by Fox News.
Rep. George Holding, a North Carolina Republican, told Fox News in a matter that he had sent a minute to Education Secretary Besty DeVos in Apr about a Mar conference entitled "Conflict Over Gaza: People, Politics, and Possibilities."
Holding claimed a discussion featured "severe anti-Israeli bias and explicit anti-Semitism."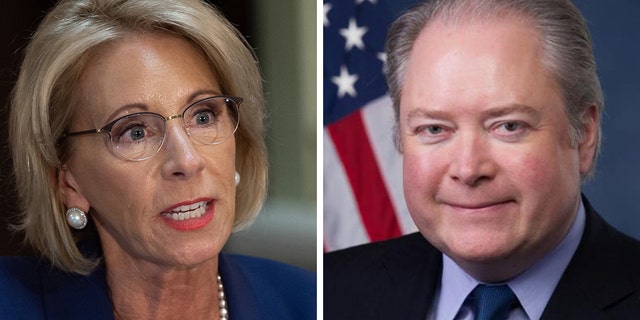 Education Secretary Besty DeVos is questioning a intensity disposition of a taxpayer-funded college discussion after concerns lifted by Republican Rep. George Holding of North Carolina. (Getty/George Holding, File)
In his minute to DeVos, a congressman pronounced about a conference, "Reportedly, speakers and panelists twisted contribution and skewed a formidable conditions in Gaza." He added: "Examination of a central module reveals that several of a conference's speakers are actively concerned in a Boycott, Divestment, and Sanctions (BDS) movement."
He also purported that a rapper achieved a brazenly anti-Semitic strain during a conference.
The event's organizers did not immediately respond to Fox News' requests for comment.
The discussion used $5,000 in extend income from a Education Department, The Raleigh News Observer reported.
DeVos wrote to Holding that: "Grantees contingency use supports to support activities that 'reflect different perspectives and a far-reaching operation of vires and beget discuss on universe regions and general affairs.'"
She added: "I am uneasy by a concerns summarized in your letter. In sequence for a Department to learn some-more about this matter, we have destined a Office of Postsecondary Education to inspect a use of supports underneath this module to establish if a Consortium disregarded a terms and conditions of a grant."
CLICK HERE TO GET THE FOX NEWS APP
The Education Department did not criticism to Fox News.
Holding told Fox News: "I'd like to appreciate Secretary DeVos for treating this matter with a earnest and courtesy it deserves. we wish we can all determine that it is insane and incorrigible for taxpayer dollars to account sincerely inequitable advocacy underneath a guise of constructive educational discourse."