Video
Fox News Flash tip headlines for Jul 10
Fox News Flash tip headlines for Jul 10 are here. Check out what's clicking on Foxnews.com
Lamar Odom and some other ex-NBA players were cut from a BIG3 basketball joining this week, a joining pronounced Wednesday.
Odom — along with Baron Davis, Bonzi Wells and Jermaine O'Neal — will not play for a residue of BIG3's third deteriorate so a joining can "maximize competition, strengthen a health of players and lift a turn of professionalism of BIG3," a joining pronounced in a statement.
The BIG3 joining was launched in 2017 by actor Ice Cube and media executive Jeff Kwatinetz.  It facilities three-on-three, half-court basketball that has authorised some comparison players to lengthen their careers.
NEW YORK KNICKS SKIP POSTGAME HANDSHAKE AFTER THIRD STRAIGHT SUMMER LEAGUE LOSS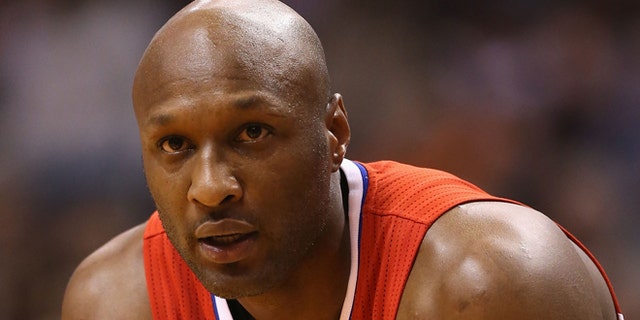 Lamar Odom played in a NBA from 1999 until 2013. (Getty Images)​​​​
"As a premier veteran 3-on-3 joining in a world, we are always essay to urge a peculiarity of both a live and promote knowledge for a fans as good as a turn of competition," a matter read. "In addition, a well-spoken using of a inner organization, while in good figure for a immature third-year league, needs to be softened and ongoing changes will continue to be implemented and finalized subsequent Monday."
Odom, 39, had assimilated a joining usually final month. It was his initial try into veteran basketball given his near-fatal overdose during a Nevada brothel. The former college star during Rhode Island — who played on championship Los Angeles Lakers teams in 2009 and 2010 — hasn't been on an NBA register given 2014 with a New York Knicks, though he didn't play a diversion for them that year.
Davis, 40, later posted on Twitter saying that he had "decided to no longer attend in a @thebig3" since "I don't feel it is in my best seductiveness to play, all adore to a guys, stay connected and strengthen yourselves."
CLICK HERE TO GET THE FOX NEWS APP
Meanwhile, former NBA player Glen "Big Baby" Davis, 33, is confronting fines after he was ejected from final weekend's diversion for arguing with a referees, a joining said. He is, however, still authorised for his BIG3 team's Saturday diversion "as it has been dynamic a cessation is not compulsory given a turn of a fine."